Our Bryce Canyon Villas are only a scenic 20 minute drive to Bryce Canyon National Park, nestled in the heart of the Grand Staircase Escalante National Monument. Our spacious cabins provides you with affordable lodging, near Bryce Canyon National Park, Kodachrome State Park, as well as many other great surrounding parks in Southern Utah.
Our location, right off Scenic Hwy 12, offers a wonderful opportunity to enjoy all these fabulous parks and vista no matter which highway or direction you come from. Once you know which way you'll be arriving, take a look at our Directions/Map page to be sure you see everything - coming or going!

---
2023 - Bryce Canton Centennial Celebration - What a Great Year to Visit Us!!
Interested in a local Guide? Lynnette Hansen  +1-435-600-1431
---
Beautiful Bryce Canyon Amphitheater

Helpful Articles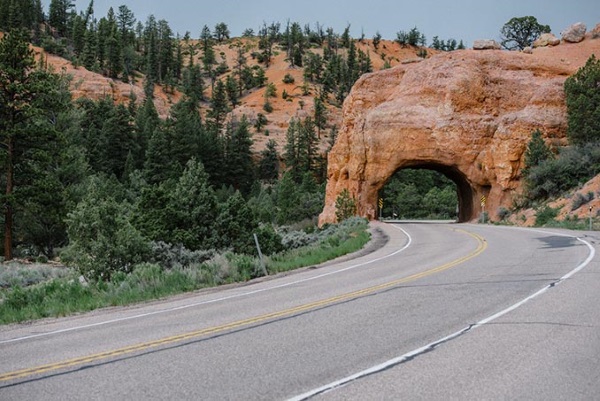 The All-American Road Scenic Byway 12 ~ By VisitUtah.com
Sometimes you find yourself on a road that you can sense is something truly special. It is not just the landscapes, though you can't take your eyes off them. It is something about the byway itself, though it's not just the quality of its surface.
It seems to have a history. There's something in the engineering — the vertiginous "Hogsback" stretch comes to mind — and in the thoughtful lay of the road. The way the road connects with the land, feels somehow..Read more...
---
Sunset hike in Kodachrome Basin State Park ~ By Leslie Kawai, Daily Herald
Tired of the cold? Head south for the winter and explore one of Utah's beautiful southern desert attractions - Kodachrome Basin State Park. Located seven miles south of Cannonville and about 20 miles east of Bryce Canyon, Kodachrome Basin is a small, 2,240-acre state park surrounded by the Grand Staircase-Escalante National Monument. In 1954, National Geographic photographers, inspired by the park's.

---
Roaming Grand Staircase–Escalante. By Ace Kvale ~ VisitUtah.com
Ace Kvale is a photographer and guide in Boulder, Utah. Whenever possible, he roams Utah's Grand Staircase–Escalante National Monument*. Along for most of his wanderings is Genghis Khan. Genghis Khan is the desert dog of Ace's Desert Dog brand, and co-star of a short film about a 60-day backpacking hike through the backcountry trails of Utah's canyon country. Arguably, he is one of the ... Read more....

---

BRYCE CANYON NATIONAL PARK ~ By VisitUtah.com
At dawn and dusk, mule deer graze the forested plateau along the road into Bryce Canyon. The alpine environment is home to dozens of species of mammals and birds, all acquainted with a spectacular truth: this is no ordinary forest. Water and wind over millions of years of freezes and thaws have carved into the plateau endless fields of the park's distinctive red rock pillars, called hoodoos, into the park's series of natural amphitheaters. Seek out the canyon floor on foot or stick to the overlooks by car. Bryce Canyon National Park invites... Read more....

---
Your need-to-know on Bryce Canyon National Park. By Dina, Sunset.com
Few things prove good things do indeed come in small packages better than Bryce Canyon National Park. See fantastical rock formations and experience some of the country's clearest night skies here.
About the park. Although only 35,835 acres—compare that to Yosemite's 761,266 acres or Yellowstone's whopping 2.2 million acres—Bryce stuns with its...Read more...
---
Kodachrome Basin State Park is a love story for Garfield County couple. By Alex Cabrero
HENRIEVILLE, Garfield County — Hollywood has made a lot of money putting love stories on the big screen. But no movie was ever made about Bob and Mira Ott. Probably because no screen would be big enough. "We were married in '51 and this year we've got 64 years," said Mira Ott, who at 81 years old still gets around without much of a problem. "We have differences of opinion but he's still my very best friend."
They were high school sweethearts at a time when that meant something. History of Kodachrome State Park.
---
Discover the Phantom-Like Rock Spires of Bryce Canyon. By National Geographic
Perhaps nowhere are the forces of natural erosion more tangible than at Bryce Canyon. Its wilderness of phantom-like rock spires, or hoodoos, attracts more than one million visitors a year. Many descend on trails that give hikers and horseback riders a close look at the fluted walls and sculptured pinnacles.
The park follows the edge of the Paunsaugunt Plateau. On the west are heavily forested tablelands more than 9,000 feet high; on the east are the intricately... Read more...
---
HOW TO EXPLORE BRYCE CANYON NATIONAL PARK. By PATRICK HUTCHISON
Named after one of the area's early Mormon settlers, Bryce Canyon National Park sits among an all-star cast of five stunning national parks in southwest Utah. Fewer than three hours from the Grand Canyon and about two hours from Zion, Bryce tends to be bypassed by visitors who are drawn to its larger, more accessible neighbors. But for those who make the effort, the park offers an incredible reward. Martian landscapes of pillar-shaped red rocks mesmerize ... Read more....

---
What to Do at Bryce Canyon National Park
Sure, in this part of America, Arizona's nearby Grand Canyon gets much of the hype. But travelers are just as easily seduced by Bryce Canyon National Park's hoodoos: tall, skinny rock spires that spike high into the air. With their striations of red, orange, gold, and tan, they look to ....Read more....

---